All my life I've been involved in the Peoria area real estate scene in one way or another, either as a son of a husband/wife real estate team, or as the husband in a husband/wife real estate team. But tonight I really felt that I became part of a family real estate team. Two days ago I  posted a message to the Jim Maloof real estate company asking if anyone would be interested in getting together to share some ideas of how we can promote the positive attributes the Peoria area has to offer. I thought maybe I would get 2-3 responses. Instead I got 20-25 people who wanted to turn out on a Friday night to hash out ideas of how we can promote Peoria, as well as another 20-25 that couldn't make it but wanted to show their support and offer suggestions.  This wasn't a discussion on how we can sell more homes. In fact I don't even think the topic of selling homes came up. This was a group of people that wanted to talk about one thing-how can we as a company push the many positive features of living in central Illinois to the masses.
The setting. We met at a local craft brew place called Pour Bros Craft Taproom in Peoria Heights. We called the day prior to see if they might be able to accommodate a group of us. No questions asked….other than…how many and what time. They set up tables for us outside on a beautiful 65 degree Friday afternoon, whether we would be spending money in their establishment or not. They had bags games going on outside,a  giant Jenga game set up, and often they have live music inside and out. A great example of local people, making their stamp on the local market. It was perfect.
Pour Bros Craft Taproom is located in Heritage Square in Peoria Heights. The photos below show how it looks during some of their open air concerts they put on in the warmer weather.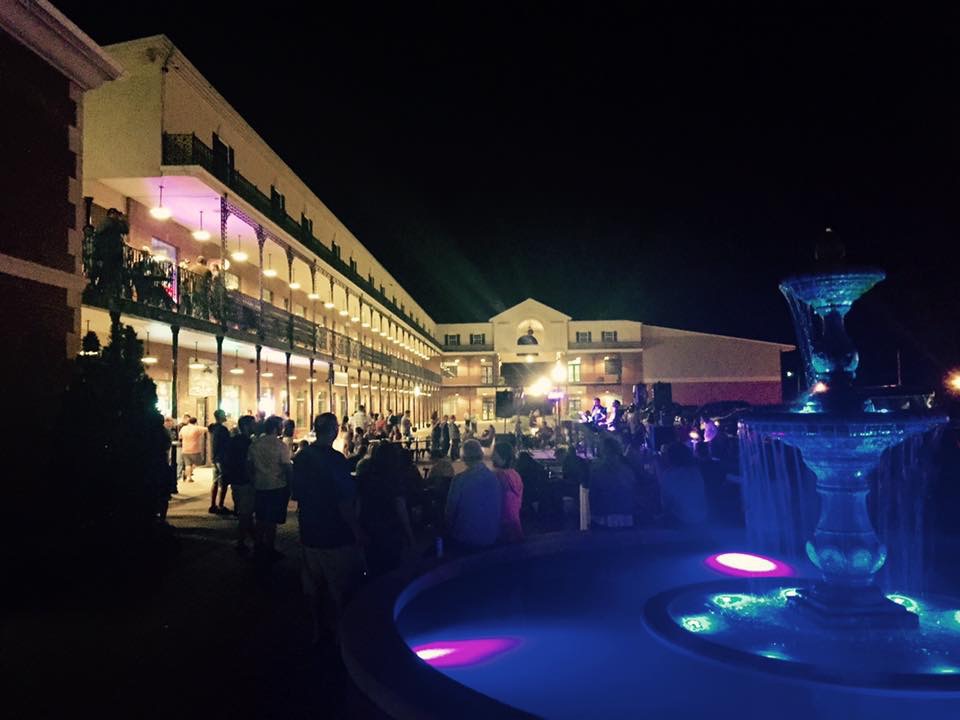 Ideas were flowing left and right. Everyone was excited to be there and to give their two cents. The one thing that was consistent throughout was the common goal-that the Peoria area had so much to offer in so many different ways, how do we promote that. It wasn't about selling houses. It wasn't about the negative press about jobs leaving Peoria. It was that Peoria is where we were born (as a company and in many cases individuals) and it will be where we call home, now, and in the future. We aren't going anywhere. Whatever your interests, whatever your hobbies, whatever it is you want to do, you can find it here. You may have to look a little harder than if you were in downtown Chicago, but you can find it here. This is home. This is where we raise our families. This is where is where we live.
There are those that will always find something to complain about, that's a given, and that's part of life no matter where you live. The local paper seems more than willing to lead with what bleeds than the opposite.  That's fine. I count myself lucky to be able to have raised our kids in Peoria. I was born in Peoria. I met my wife in Peoria. I got a fine public education in Peoria. Everything in life isn't given to you. Peoria provides opportunities to those that seek them. It doesn't provide a free hand out. Peoria is life. Peoria is real. Peoria is home. I count myself lucky to be here by chance, and will always consider myself fortunate to stay here by choice.
Thanks!
Mark and Jennifer